Democrats March Left in Unison: Off a Cliff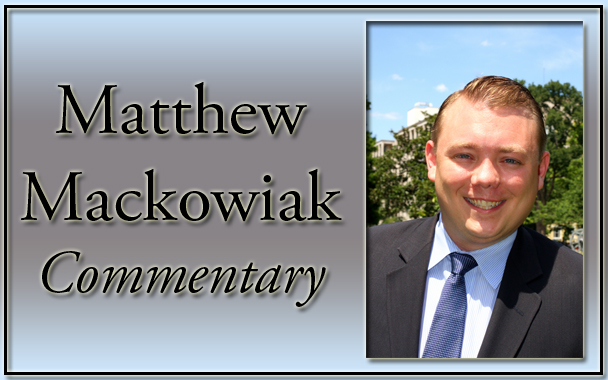 ANALYSIS/OPINION:
If you have a particularly high pain threshold, perhaps you suffered through five consecutive hours of Democratic presidential candidate town halls airing on CNN on Monday night.
Perhaps the most significant headline from those events was the truly shocking position taken by Sen. Bernard Sanders of Vermont, who said violent felons, including terrorists, murderers and rapists, should be allowed to vote while in prison. He was given the example of the Boston Marathon bomber when he suggested the idea.
You can imagine how popular that idea will be in neighboring New Hampshire.
Like a trained seal, California Sen. Kamala D. Harris was asked the same question and she responded that we need a "national conversation" about that subject, one of five times she said that in the one-hour program.
Amid this madness, former Vice President Joseph R. Biden enters the Democratic field. His best day will be announcement day, then it will all go downhill.
One question hangs over his entrance: Will he be able to stand up to the left in his own party? So far, virtually no one else is.
A dispassionate observer could view the Democratic field of presidential candidates as caring more about impractical progressive policy ideas than law-abiding citizens.
The "Medicare for All" proposal that nearly every Democratic presidential candidate has endorsed would end all private insurance, displacing tens of millions of Americans to benefit a relatively small number of Americans.
This week, Sen. Elizabeth Warren of Massachusetts proposed canceling all college debt, which would cost $640 billion. College debt is voluntarily agreed to by borrowers. Students can work while they attend college, and many students do. The real scandal is incurring $50,000 in debt for a gender studies degree from Northwestern University that has no practical value once you graduate. Ms. Warren, desperate to create any enthusiasm for her lifeless candidacy, is suggesting that taxpayers foot the bill for the poor financial decisions made by college students.
The list goes on.
Several Democrats have endorsed legislation to create a commission to study reparations. Such a program, if it were ever enacted, could cost $1 trillion. If direct payments were made to every single black family in the U.S. (there are 37 million), each would receive $27,000, which isn't even the media salary in middle America.
The most ridiculous proposal offered is the Green New Deal, which most of the top-tier Democratic candidates endorsed immediately after it was proposed by former bartender and millennial know-nothing Rep. Alexandria Ocasio-Cortez of New York. Her plan would end all carbon emissions (including ending air travel), guarantees jobs and health care to everyone (including those who don't want to work) and proposes rebuilding all energy-inefficient buildings. An analysis of her plan from a former Congressional Budget Office director estimated its cost at up to $93 trillion over 10 years, which would more than quadruple the national debt.
On immigration, the Democrats have become stunningly extreme. They deny a crisis on the southern border exists, while we are apprehending up to 100,000 illegal immigrants each month and detention facilities are overcrowded.
Former Housing and Urban Development Secretary Julian Castro has been the boldest Democrat on this issue. His immigration platform doesn't just call for amnesty for all illegal immigrants, it also proposes decriminalizing illegal entry. Former Rep. Beto O'Rourke of Texas has suggested removing existing border barriers.
These policy positions won't be supported by more than one-third of the country.
At a time when the economy is strong, our military is being rebuilt and solid conservatives are being confirmed to the courts at all levels, President Trump stands a solid chance to be reelected, despite the relentless attacks he has suffered from Democrats and their media allies.
Each week, I say, "Democrats can't possibly go any further left." Then their national polling leader suggests letting violent felons vote in prison.
Matt Mackowiak is president of Austin, Texas, and Washington, D.C.-based Potomac Strategy Group. He's a Republican consultant, a Bush administration and Bush-Cheney reelection campaign veteran and former press secretary to two U.S. senators.
——————————————————–
Matt Mackowiak
President
Potomac Strategy Group, LLC
AUSTIN: 807 Brazos St, Ste 408, Austin, TX, 78701 | office: (512) 469-9090 | fax: (512) 532-0999
WASHINGTON: 1238 Wisconsin Ave, Suite 401, Washington, DC 20007 | office: (202) 350-2647 | fax: (202) 318-8590