Facts & Fallacies: British Airways Returns to PIT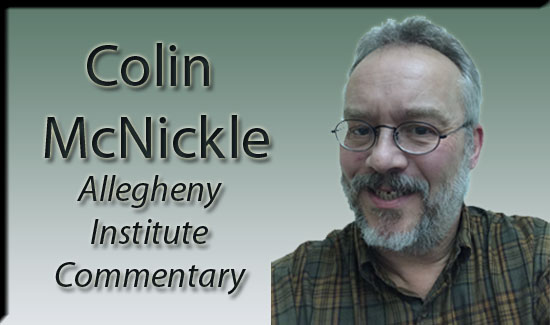 With much pomp and circumstance, British Airways this week resumed non-stop flights between Pittsburgh International Airport (PIT) and London's Heathrow Airport after a 20-year absence. The new flights are being subsidized with $3 million in public money over the next two years.
However, the rationales cited for restarting the service – by a top airline official, Allegheny County's top elected official and an industry strategist — don't hold up to factual scrutiny, an analysis by the Allegheny Institute for Public Policy concludes.
Simon Brooks, British Airways' senior vice president for North American sales, says "the Steel City was a really obvious choice for us." He predicts a profitable route driven by corporate connections, tech and startup business, a robust leisure market and student travel.
But Jake Haulk, president-emeritus of the Pittsburgh think tank, says someone should check Brooks' startup data.
"According to the Kauffman Index of Startup Activity that analyzed 40 large metro areas, the Pittsburgh Metropolitan Statistical Area ranked 39th, tied with Milwaukee for last place in 2017," says Haulk, a Ph.D. economist (in Policy Brief Vol. 19, No. 14).
Furthermore, several carriers already offer one-stop London service with comparable fares. And with British Airways now serving 26 U.S. airports, the obvious question is if all this new capacity will be met with commensurate demand.
Allegheny County Chief Executive Rich Fitzgerald certainly was no shrinking violet in his pronouncements as to why British Airways supposedly wanted to pick up Pittsburgh-to-London service anew.
He called the city "vastly different" than what it was 20 years ago, gushing the chamber of commerce-like talking points. He cited "more economic growth," the addition of Google, Facebook and autonomous vehicles companies and "so many things that are more positive today than there were in 1999."
The facts, however, lighten the tint of Fitzgerald's rose-colored glasses.
"What the executive conveniently forgets is that the 1990-to-2000 decade was actually a far better period for private employment growth in the Pittsburgh Metro than the 18 years since 2000 have been," Haulk reminds.
Moreover, the population in the region and the city continues to fall.
"In short, the Pittsburgh area economy is quite anemic in comparison to the national economy and, what's worse, population is not growing. The labor force is nearly stagnant and job gains have slowed from the 1990s performance," Haulk says. "Startups are very weak compared to other metro areas."
Not to be outdone in the pronouncements department is William Swelbar, chief industry strategist for Delta Airport Consultants of Richmond, Va. He touted "a lot of air service wins in Pittsburgh" but says they all pale in comparison to the import of the British Airways deal.
"It seems almost comical to say Pittsburgh has had a lot of air service wins," Haulk says, recounting a laundry list of failures, from PIT losing hub status, to the long list of publicly subsidized failures.
That would include the outright scuttling of OneJet and WOW Air, Delta Air Lines vamoosing from its Paris flight, likely because of the subsidies to British Airways, and the failure of Qatar Air to meet cargo tonnage goals but receiving hefty public subsidies anyway.
"For some reason, the so-called gurus apparently do not understand that air travel demand depends on the size of the population in the collection area that are disposed to fly – especially overseas – and their income," the think tank scholar says.
"In a region with little or no population growth and slow employment gains with those heavily concentrated in lower income jobs, overseas air travel demand is not likely to be growing rapidly, if at all," Haulk reiterates.
"Artificially stimulating demand by subsidizing travel is a dreadful misuse of tax dollars since the beneficiaries of the subsidies are likely to be made up of people who would have traveled without the subsidy," he says. "And once the subsidy starts for one carrier, others will want subsidies as well."
Colin McNickle is communications and marketing director at the Allegheny Institute for Public Policy ([email protected]).