Freedom Breakfast Program Announced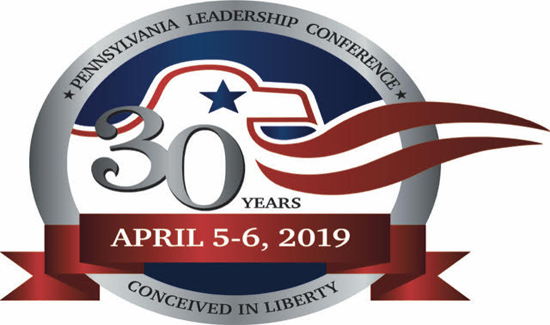 (Harrisburg, PA) – Greg Wrightstone, author of the best-selling book Inconvenient Facts: The Science That Al Gore Doesn't Want You Know will speak during the 30th anniversary 2019 Pennsylvania Leadership Conference's Freedom Breakfast on Saturday April 6th. The conference will be held on April 5th and 6th at the Radisson Penn Harris Convention Center in Camp Hill, Pennsylvania.
The breakfast will also include a video featuring Dr. Paul Kengor from the Center for Vision & Values at Grove City College interviewing perennial PLC favorite John Gizzi of Newsmax looking back at the 30 year history of the Pennsylvania Leadership Conference. Candidates for two open seats on the state Superior Court have also been invited to make comments during the breakfast.
Kimberley Strassel of the Wall Street Journal, and author of the best-selling book The Intimidation Game: How the Left is Silencing Free Speech will be the featured dinner speaker. Jimmy Kemp of the Jack Kemp Foundation; Mark Janus, Plaintiff in the landmark U.S. Supreme Court Janus v AFSCME decision, Kay Coles James of the Heritage Foundation, Salena Zito of the New York Post and Washington Examiner, Tim Goeglein of Focus on the Family, Congressman Scott Perry, Cliff Maloney of Young Americans for Liberty (YAL), and Ed Martin of the Phyllis Schlafly Eagles will also address the conference.
The Pennsylvania Leadership Conference is the premiere gathering of public policy conservatives each year in the Keystone State. It is the largest and longest-running of the state-based conservative conferences regularly attracting a long list of conservative elected officials, scholars, journalists and activists for two days of speeches, panel presentations, workshops and networking.
Registration for the conference is now open at www.paleadershipconference.org.
Here are details of this year's four workshops:
• Criminal Justice Reform sponsored by Americans for Prosperity with Beth Ann Mumford of Americans for Prosperity and special guest Matthew Charles of FAMM who was honored by President Trump during the recent State of the Union address.
• Bill of Rights sponsored by the Constitutional Organization of Liberty (COOL) with State Senator Mike Folmer and Louis Petolicchio of COOL as presenters.
• Smart Approaches to Marijuana Policy sponsored
by the Pennsylvania Family Institute hosted by Michael Geer of the Pennsylvania Family Institute, former drug prosecutor Joe Peters, and Luke Niforatos as presenters.
• How to Fight Deep State Regulators sponsored by Freedom Works with Patrick Hedger of Freedom Works as the presenter.
Here is a complete listing of panels, moderators and panelists for the 2019 Pennsylvania Leadership Conference.
• Whose Money is it, Anyhow? moderated by David Osborne of the Fairness Center with panelists State Representative Kate Klunk, Carl Marrara of the PA Manufacturers Association, Janis Rights lawsuit plaintiff Francisco Molina and Keith Williams of Americans for Fair Treatment.
• Three Cheers for Capitalism moderated by Gordon Denlinger of the National Federation of Independent Business with panelists Gene Barr from the, Pennsylvania Chamber of Business & Industry, political commentator Kathy Barnett, Mark Hendrickson of Grove City College and entrepreneur Michael Kennedy from the Citizens Alliance of Pennsylvania.
• Transformative Power of Free Markets moderated by Steve Bloom of the Commonwealth Foundation with panelists including Berks County Commissioner Christian Leinbach, State Senator Scott Martin, Donna Partin of Merry Maids, and John Persinger from the Erie Downtown Development District.
• Hot Topix moderated by Jeff Lord of the American Spectator with panelists Kim Kennedy from Conversations on the Culture, State Representative Daryl Metcalfe, Jeremy Samek of the PA Family Institute and Kim Stolfer from Firearms Owners Against Crime.
• Winning Hearts and Minds moderated by Beth Anne Mumford of Americans for Prosperity and panelists Matt Batzel of American Majority, Blair County GOP Chair Lois Kaneshiki, Mitchell Snyder from the Pennsylvania College Republicans and Conor Maguire from WPA Intelligence.
A complete agenda is posted and you can register for the conference at
www.paleadershipconference.org.