GOP U.S. Senate Race: Close at the Finish Line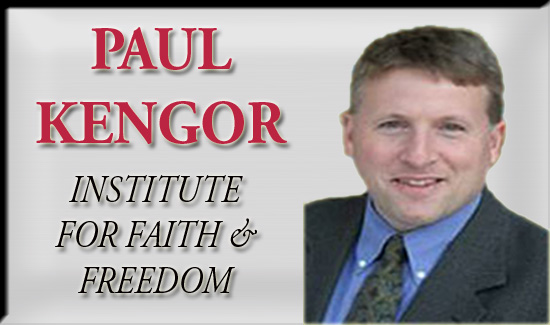 Grove City, Pennsylvania — The Pew Fine Arts Center here on the campus of Grove City College holds an audience of about 700 in its Ketler Auditorium. The auditorium is the campus's main stage for plays and musicals and lectures and various performances. On the evening of Wednesday, May 4, it was packed for the final Pennsylvania Senate debate before the Republican primary vote this Tuesday, May 17. The stage would prove a crucial turning point.
The day before the debate, a scoundrel operating within the recesses of the hallowed halls of the U.S. Supreme Court leaked the draft of a coming court opinion that presumably will overturn Roe v. Wade and Planned Parenthood v. Casey, mercifully at long last sending abortion legislation back to where it always belonged — the states. The leak was a nightmare for Chief Justice John Roberts, but it could not have been a better gift for one of the five Republican candidates on stage that night: Kathy Barnette.
In an interview with Breitbart News Saturday, David McCormick again showed that he is not afraid to run as a traditional, establishment conservative and yet at the same time be unashamedly pro-Trump, even echoing Trump slogans.
Barnette was among five impressive Republican candidates behind podiums that evening, all jousting to replace retiring Pennsylvania Republican Pat Toomey, who has served as an outstanding conservative,
at times scored
by the American Conservative Union as the most conservative member of the U.S. Senate. Joining Barnette were David McCormick and Mehmet Oz, the two front runners, and Carla Sands and Jeff Bartos, the two trailers. All five, of course, have distinctive personal experiences, but none quite like Barnette, whose unique story dovetailed remarkably with the abortion leak at the high court.
Barnette was conceived when her mother was raped at age 11. Her mother chose to give her life. Today she is a mother herself, a military veteran, and a staunch pro-life advocate. Her video testimony of what happened to her mother is very moving. There was no question abortion would come up during the debate here in Grove City on May 4, and Barnette quite naturally responded by invoking her own life experience.
"I am so very grateful that our nation is having a very important conversation about life," said Barnette. "I am the byproduct of a rape. My mother was 11 years old when I was conceived." She turned her attention to Oz's abortion position, at least as she sees it: "I was not just a lump of cells, as you can see, I'm still not just a lump of cells. My life has value and that is one of the reasons why it was very disturbing when I saw Mehmet Oz running for this particular race when I've seen him on numerous occasions and specifically at the ​'Breakfast Club' saying that my life was nothing more than an acorn with electrical currents. I am wondering if the good doctor has now since changed his position on that. My life is valuable and so are the many lives that find themselves in the womb of their mother, whether in the womb or toward the end of that life."
The Supreme Court leak was perfectly timed for Barnette. Her answer to that and other questions impressed voters everywhere who watched the debate nationally on Newsmax TV. By the next round of polling, the race was essentially a three-person statistical tie between Oz, McCormick, and Barnette. This past weekend's poll roundup by RealClearPolitics has Oz leading by 2.3 percent, with him at 23.3 percent, Barnette at 21.0 percent, and McCormick at 20.3 percent.
Barnette also stands out as potentially the first black female to secure either party's U.S. Senate nomination in Pennsylvania.
Dr. Oz, of course, is nationally known for his TV show. Born in Cleveland, he is ethnically Turkish, became a citizen of Turkey, and is a Muslim. If elected, he would be the first Muslim in the Senate. Oz attended Harvard and Penn. Like Barnette and McCormick, he is a military veteran — for the Turkish armed forces (Turkey is a member of NATO). He also served as a physician and surgeon. And for the record, Oz claims to be pro-life, and says he would limit abortion to cases of rape, incest, or when the mother's life is in danger. The
Pennsylvania Pro-Life Federation affirms
 Oz and the whole group of Republicans as legitimately pro-life.
A liability for Oz is that he is not a Pennsylvania native (neither is Barnette), barely a recent resident, and has been dubbed a "carpetbagger." A great plus is that he does well among suburban middle-aged women — a tough voting block for Republicans. That would serve him very well in the general election. He also has an engaging personality and is a people person, as I witnessed here with his interactions with Grove City College students on May 4 and several weeks prior during an early campaign stop at the college. He is likable.
David McCormick certainly lacks Oz's TV presence, but his background is extremely impressive. The native of western Pennsylvania went to West Point, served in the 82nd Airborne Division, earned a Bronze Star in Operation Desert Storm, and earned a master's degree and Ph.D. from Princeton. He went into the business world, joining the superb company FreeMarkets, started by local entrepreneur Glen Meakem. In 2001 he was promoted to president of FreeMarkets and in 2002 was named CEO. President George W. Bush named him Under Secretary of the Treasury for International Affairs. He is a complete conservative.
Barnette has suddenly surged in the final stretch, which has Oz and McCormick and their supporters stunned and concerned. Her surge also worries Republicans who believe that Oz and McCormick have a better chance beating the presumptive Democratic nominee, Lieutenant Governor John Fetterman, who leads Democratic primary challengers by over 30 points, even as Barnette energizes and excites the grassroots more than Oz and McCormick do.
Republican leaders statewide believe McCormick is the one candidate most likely to beat Fetterman. Befitting his persona, McCormick has been much quieter than Oz and Barnette, staying in the background while those two lock horns. In the latest set of exchanges and allegations, Oz accused Barnette of writing in a 2015 tweet that, "Pedophilia is a Cornerstone of Islam." He added: "Every time she answers a question, she raises more questions. But I think it's disqualifying to make Islamophobic and homophobic comments, not just for the general election, but the Republican primary as well." In an interview last week, Barnette denied ever issuing such a tweet, claiming "I would never have said that," though not explaining how the tweet allegedly ended up on her feed.
Oz has won the endorsement of Donald Trump and Sean Hannity. The Trump endorsement left many scratching their heads, though Trump seems lured by Oz's media-TV image and the reality that Oz has a wider appeal to the electorate. Trump's approval has been crucial, with his supporters backing Oz in turn. The blue-collar guy on my street who literally flies a Trump flag year-round has a weird little "OZ" sign in his front yard. He would normally be a natural for Barnette or McCormick, but Trump's stamp of approval was all he needed.
Sean Hannity is also firmly in Oz's corner. On Hannity's radio show on May 11, Oz portrayed Barnette as a "mystery woman" not sufficiently vetted, who (Oz suggested) had once indicated support for everything from BLM to a statue for Barack Obama to opposing policing. These claims were firmly rejected by a CNN fact-checkstating that "A super PAC supporting Mehmet Oz … has released an attack ad that wildly distorts the past remarks and positions of Kathy Barnette." Nonetheless, Oz did suggest such things on Hannity's show.
Since then, Sean Hannity went further, not only endorsing Oz but saying that Barnette cannot win in November. "Kathy Barnett has not gotten any kind of vigorous, rigorous vetting that is now proving to be a massive problem in this race," says Hannity, not inaccurately. "And now we are uncovering many troubling comments and tweets that would very likely cause her to lose badly in a general election. This is a very important state. There are so many questions she has never answered in many tweets that likely render her unelectable in Pennsylvania." Hannity adds: "Now this is a must hold Senate seat if Republicans have any chance of taking over the Senate in the midterms. This is a tipping-point inflection moment for this country…. Let me put it very simply here: I don't see any scenario where Kathy Barnett can win a general election in Pennsylvania."
For many conservative Republicans, that concern over Barnette has inched them back to McCormick.
McCormick continues to take an approach of staying above the fray, cultivating an image as the measured choice. He has been so measured as to seem uninteresting. This past weekend, however, he stepped forward with some of his strongest statements to date in an interview with Breitbart News Saturday. There, McCormick again showed that he is not afraid to run as a traditional, establishment conservative and yet at the same time be unashamedly pro-Trump, even echoing Trump slogans.
"We've got to have America First policies — pro-growth economic policies, fair trade, energy dominance, [and] a secure border," says McCormick. "I embraced that agenda 100 percent." He describes himself as the "serious" choice to win in November, supported by "serious conservatives" like Mike Pompeo, Ted Cruz, Mike Huckabee, and Rick Santorum, adding that he is a "true conservative, that I say what I believe and I will do what I say. You won't have to wonder what I'll do when I get the office because I've said it, and I've got an entire life and career of acting on the principles that I believe are the most important conservative principles."
McCormick says of Oz: "in Mehmet Oz's case, there's so many reasons to believe that he doesn't line up with the conservative values of Pennsylvania primary voters because of everything he's said and done over his entire lifetime," including his "anti-Second Amendment positions, his pro-abortion positions, his approach [to] transitions for kids, his pro-Obamacare positions, [and his] anti-fracking position."
Breitbart seems to favor McCormick, and does not like Barnette — recently accusing her of the unforgivable sin of "attacking" Donald Trump in 2016 by daring to say on Twitter that Trump had a questionable moral character. This past Sunday, Breitbart touted an internal tracking poll by a pro-McCormick super PAC showing McCormick inching up to 25 percent, just slightly ahead of Oz and Barnette, both at 24 percent.
Perhaps the most sobering assessment from McCormick in that interview was his claim that the Pennsylvania Senate election might be the "most significant Senate race in American history, certainly in terms of attention and resources [that] are going to be focused on it." That's an exaggeration, but it no doubt underscores this election's undeniable importance. As McCormick puts it, "This Senate seat, it's gonna send Chuck Schumer home if we win this seat."
That is no exaggeration. If Republicans lose this seat, Pennsylvania would have two Democrat senators in a state that is not liberal. One of them is the outrageous Robert P. Casey Jr., who scandalously poses as a pro-life Democrat even as he (predictably) voted last week with Chuck Schumer to enshrine abortion as the law of the land — a direct repudiation of everything his late father, Robert P. Casey, Sr., the namesake of the Planned Parenthood v. Casey decision, fought against. Casey has been such a disgrace to his father's legacy that one wonders if he'll publicly denounce the Supreme Court's defense of his father if it reverses Planned Parenthood v. Casey. He surely will. That would be quite the spectacle, but a perfect capstone to Casey Jr.'s terrible pro-life betrayal.
But beyond that one issue — crucial as it has become in this race, especially to Kathy Barnette — the majority of the U.S. Senate is at stake and arguably in the hands of Pennsylvania Republicans. This is a seat the GOP cannot lose. The party's nominee, to be decided this Tuesday, will be crucial.