Malaise: Inflation, Supply Chain Disruptions, Worker Shortages Hinder PA Economy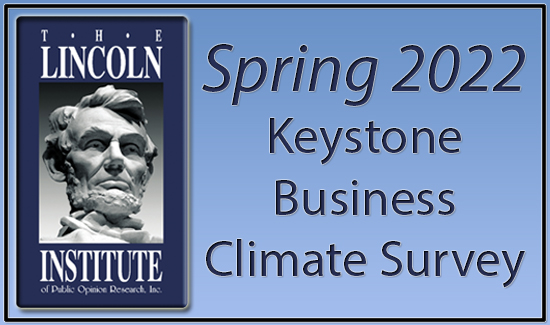 Pennsylvania's business climate continues to get worse as inflation, supply chain disruptions, worker shortages, and government policies hinder efforts to fully recover from the damage done by measures implemented to deal with the COVID-19 pandemic.  Business owners and top executives participating in the Spring 2022 Keystone Business Climate Survey do not expect to see any turn-around over the coming six months.
In general, 22% of those surveyed said business conditions in Pennsylvania have gotten better over the past six months; 49% said business conditions have gotten worse; 27% said they remained about the same.  For context, "same" is not good as responses to this question have been substantially negative since the onset of the COVID-19 pandemic in the Spring of 2020.
The numbers are almost identical to the Fall 2021 survey, which turned negative following a brief uptick of optimism in the Spring 2021 poll.  Looking ahead, 25% expect business conditions in the commonwealth to improve, while 41% expect conditions to continue getting worse.
Inflation peaked at over 8% during the survey period and dominated the economic news.  Government overspending led the list of inflation causing culprits and was cited by 24% of respondents.  The business leaders surveyed also continue to place blame for inflation on the pandemic as 23% cite that as a primary cause.  Twelve percent tagged "corporate greed" as the reason for inflation while 11% blamed government energy policies and an equal number blamed increases in the money supply.  Ten percent said the Russian invasion of Ukraine is a driver of the inflation rate.
When asked what is their top concern, 67% said inflation; 42% cited labor shortages, and 42% are worried about supply chain disruptions.  Following those top concerns respondents also cited taxes (36%), energy costs (32%), labor quality (28%), health insurance costs (27%), and government mandates (22%) as issues affecting their businesses.
Fifty-six percent of the businesses participating in the Spring 2022 Keystone Business Climate Survey report having open positions which they are looking to fill.  Sixty-six percent of those indicate they are having difficulty finding enough qualified employees to fill open positions, with 36% report having "significant difficulty."
The Pennsylvania legislature is currently considering the legalization of recreational marijuana.  Thirty percent of the business owners/executives surveyed say that would make hiring a trained work force more difficult, 46% said the quality of the labor pool would remain about the same, while 12% thought legalization would make it less difficult to hire trained workers.
Businesses in Pennsylvania have made a number of adjustments because of the current economic conditions.  Forty-seven percent have had to raise prices, 41% report increasing wages and benefits, 28% have made changes to operating hours, 21% have altered their hiring practices, and 8% have instituted lay-offs.  Sixteen percent report having made no adjustments.
Seventy-four percent of the survey respondents indicated that their business has experience a supply chain disruption. Of that number, 49% say the supply chain disruptions are currently on-going.  Twenty-four percent indicated they have not experienced any supply chain disruptions.
Looking Ahead
More businesses have decreased their workforce (26%) than added employees (17%) over the past six months.  But, looking ahead six months 24% expect to add employees while 13% expect to trim their workforce. Thirty-five percent expect to see their sales increase over the coming six months, 22% are braced for a decrease in sales while 38% expect sales to remain about the same.
Looking ahead three-six months 23% of business owners/executives say they expect to increase their inventory; 22% plan a reduction in inventory with 46% saying they plan to keep inventory about the same.  There are plans for expansion and improvement.  Thirty percent expect to make capital equipment purchases, 19% plan building projects and ten percent expect to purchase land.  Fifty-two percent indicated they plan no capital expenditures.
Energy costs have been a main driver of inflation with costs for fuel and electricity on the rise.  Governor Wolf continues the fight to have Pennsylvania join the Regional Greenhouse Gas Initiative (RGGI). This will trigger an added fee on carbon dioxide emissions and will further increase electric rates.  Respondents were divided in their support of RGGI with 48% opposing the initiative and 47% in support.  However, when asked if the likely 30% increase in electric utility rates resulting from RGGI would make them more or less likely to locate, hire or expand their business within the commonwealth, 47% said they would be less likely to do so while 15% indicated they would be more likely.
Government Accountability
Government action at all levels impacts the business climate. Respondents to the survey were asked whether government was the most accountable and responsive to people at the federal level in Washington, D.C., the state level in Harrisburg or the local level in their municipality. Thirty-eight percent said the local level was most responsive, 25% cited the federal level, and 24% the state level.  Fifty-one percent of the respondents have their businesses located in a township, 28% in a borough, and 20% in a city.
Job Approval Ratings
Respondents to the Spring 2022 Keystone Business Climate Survey have a negative view of the job performance of every major elected official at the state and national levels along with an equally negative view of the legislative and judicial branches of government.
Over half, 52%, of those polled have a negative opinion of President Joe Biden's job performance, 37% have a positive view.  Business owners/executive also have a negative view of the job performance of Pennsylvania U.S. Senators with U.S. Senator Robert P. Casey, Jr. posting a 28% positive/45% negative rating and U.S. Senator Patrick Toomey getting a 24% positive/49% negative review.
Jerome Powell, Chairman of the Federal Reserve Board of Governors likewise is viewed in a negative light: 17% positive/43% negative as is U.S. Treasury Secretary Janet Yellen with a 25% positive/39% negative rating.
As the COIVD-19 pandemic ebbs and he is less often in the news Governor Tom Wolf's job approval rating has improved slightly, but still 49% have a negative view of the governor's job performance compared to 36% with a positive view.  Attorney General Josh Shaprio, who is the Democratic nominee for governor, received a positive rating of 35% and a negative rating of 41%.  Negative ratings were also tabulated for Auditor General Timothy DeFoor (16% positive/28% negative) and state Treasurer Stacy Garrity (17% positive/27% negative).
The job being done by legislative bodies also drew a negative response.  Sixty-eight percent have a negative view of the job being done by the U.S. Senate, 19% hold a positive view.  Sixty-three percent have a negative view of the U.S. House of Representatives, 23% a positive view.  The Pennsylvania Senate received a 30% positive/45% negative rating while the Pennsylvania House of Representatives posted a 35% positive/42% negative rating.
Forty-two percent hold a negative view of the Supreme Court of the United States while 38% think the justices are doing a good job.  Thirty-eight percent hold a negative view of the Pennsylvania Supreme Court with 27% approving of the job being done by the justices.
Demographics and Methodology
 The Spring 2022 Keystone Business Climate Survey was conducted April 20th to May 20th with 205 business owners/executive responding.  Of those, 52% were the owner of the business; 24% the CEO/COO/CFO, and the remainder a state or local manager.  Twenty percent of the responses were from Southeastern Pennsylvania, with 20% also from Northwestern Pennsylvania and 20% from Southwestern Pennsylvania.  Fifteen percent are located in Northeastern Pennsylvania; 11% each from Northcentral and Southcentral Pennsylvania; 2% from Altoona/Johnstown and 2% from the Lehigh Valley.
Complete numeric results and results of past surveys are available at www.lincolninstitute.org.
Permission to reprint is granted provided author and affiliation are cited.