Opening Day: Throwing the First Pitch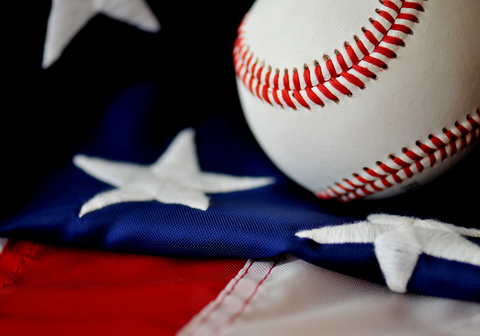 Editor's note: This article first appeared at Claremont Review of Books.
In The Presidents and the Pastime: The History of Baseball and the White House former presidential speech writer, veteran journalist, and college professor Curt Smith provides a lively, informative account of our nation's chief executives and America's quintessential sport. Deftly interspersing engaging stories, statistics, and analysis of baseball with anecdotes and apraisal of the lives and tenure of presidents, Smith provides a thoughtful, engaging window into both America's game and the work of its leaders.
Stories about baseball's greatest stars—Babe Ruth, Walter Johnson, Lou Gehrig, Joe DiMaggio, Jackie Robinson, Mickey Mantle, Ted Williams, Stan Musial, Roberto Clemente, and Willie Mays—and major events in the lives of presidents fill his pages. Smith also details various pennant races and World Series and their connections with occupants of the Oval Office.
Baseball, Smith argues, was very important to many presidents. Several of them participated in baseball growing up. Abraham Lincoln played an early version of the game, while Herbert Hoover played shortstop for Stanford. George H. W. Bush was a no-hit (.212 average), good-field first baseman at Yale after World War II. Barbara was his first love, he declared, but baseball was a close second. Donald Trump starred as a first baseman at the New York Military Academy; in 1964 the Boston Red Sox even offered him a minor league contract.
Many presidents rooted passionately for MLB teams as youth and adults. Numerous presidents attended games while in office, often throwing out the first pitch for the Washington Senators or Nationals or teams in other locales.
Franklin Roosevelt helped "save" MLB by keeping it going during World War II. In January 1942, he sent a letter to MLB commissioner Kennesaw Mountain Landis calling for continuing the sport because it enhanced the morale of American troops. Other professional sports like bowling and horse racing were suspended during the war, while some NFL teams like the Pittsburgh Steelers and Philadelphia Eagles merged. Ronald Reagan broadcast Chicago Cubs games for a radio station in Des Moines, Iowa, and portrayed pitcher Grover Cleveland Alexander (named for a president) in the 1952 movie "The Winning Team." Most significantly, George W. Bush was a co-owner and president of the Texas Rangers, refashioned the franchise in the early 1990s, and knew baseball's history, internal dynamics, and strategy extremely well.
Smith is well-versed in the history of baseball, having written earlier books about baseball broadcasters, long-time Los Angeles Dodger announcer Vin Scully, the celebration of Fenway Park's Centennial. In addition, he has hosted the "Voices of the Game" series at both the Smithsonian Institution and the Baseball Hall of Fame in Cooperstown, New York. His work as a speech writer for George H. W. Bush, his 2014 biography of the 41st president, his interviews with most recent presidents, and his careful study of chief executives' careers has enabled him to produce a judicious, balanced assessment of their lives and work.
From 1856 to the present, baseball has often been called our "national pastime." Andrew Johnson became the first president to attend a baseball game when he watched the Brooklyn Excelsiors defeat the Washington Nationals 33-28 on September 18, 1866. Chester A. Arthur was the first chief executive to host a professional team at the White House when he greeted the National League Cleveland Blues in 1883. Many of his successors invited the winners of the World Series to the Oval Office to celebrate their achievement.
Surprisingly, Theodore Roosevelt, known for his love of the outdoors and sports, did not like baseball, but his successor, William Howard Taft, who originated throwing out the first ball, could be termed "First Fan." As a boy, Dwight Eisenhower aspired to be a Major League baseball player, and as an adult, his favorite movie was the 1951 "Angels in the Outfield" about the Pittsburgh Pirates. Richard Nixon played sandlot baseball as a youth, followed the game more closely than any other president while in office, and in 1972 named his all-time All-Star team.
Smith argues that baseball in America needs to make changes to enhance its popularity. In a 1964 Gallup Poll, 45 percent of respondents named baseball as America's "favorite game," while only 23 percent identified football. By 2014, however, the NFL led MLB by 35-14 percent as America's preferred sport. Moreover, television viewership of World Series games declined from an average of 44 million in 1978 to 12.6 million in 2012. To rejuvenate the game, Smith recommends hiring broadcasters like Vince Scully, Mel Allen, Dizzy Dean, and Harry Carey to bring the game alive and entertain fans, regularly airing games on a national network not just the Major League Baseball channel, restoring "TV camera intimacy," quickening the pace of games, and playing the World Series and All-Star games at times when the largest audience can see their conclusion.
As they did with religion, presidents sometimes used their attendance of games and professed love of sports to identify with other Americans and enhance their popularity. I vividly remember the awkwardness of Jimmy Carter's foray into the Pirates' locker room as they celebrated their win over Baltimore in game seven of the 1979 World Series. Eager for publicity as the 1980 election grew closer, Carter came to congratulate players with whom he had no relationship and looked like a fish out of water.
Like Curt Smith, I saw my first MLB game in the late summer of 1960. He saw the Red Sox and Tigers at Fenway Park; I watched the Pirates beat the Atlanta Braves at Forbes Field on their way to winning the 1960 World Series. Those who love baseball will find Smith's rich political, cultural, and anecdotal history a delight.
– –
Dr. Gary Scott Smith is the retired chair of the history department at Grove City College and is a fellow for faith and politics with The Center for Vision & Values. He is the author of "A History of Christianity in Pittsburgh" (2018), "Suffer the Children" (2017), "Religion in the Oval Office" (Oxford University Press, 2015), "Faith and the Presidency From George Washington to George W. Bush" (Oxford University Press, 2009), "Religion in the Oval Office" and "Heaven in the American Imagination" (Oxford University Press, 2011).