PA Civil Justice System Burdens Residents, Businesses and Healthcare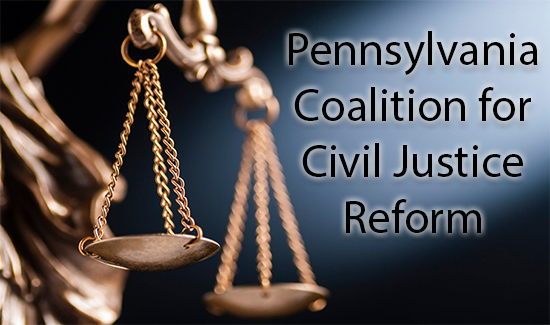 PCCJR Calls on Candidates for Supreme Court to Address Costs
HARRISBURG – A new study by the U.S. Chamber's Institute for Legal Reform (ILR) has found that Pennsylvania has the 6th highest tort costs in the nation.  The report, which analyzed the impact of lawsuit abuse nationally and by state, revealed that in 2020, litigation costs reached $443 billion nationally.  Civil litigation costs in the Commonwealth totaled nearly $17 billion (representing 2.1 percent of the state's GDP) or $3,316 per household.  Pennsylvania ranked 18th highest in the nation when it comes to cost per household.
"This study shows that our Commonwealth's notoriously litigious civil justice system is costing Pennsylvania taxpayers," Pennsylvania Coalition for Civil Justice Reform Executive Director Curt Schroder said. "These excessive tort costs impact the productive sector of our economy and place a financial burden on every family in the state. With the Supreme Court's recent decision to overturn the state's venue medical liability rule, we expect these costs to continue to grow exponentially in the coming years."
Notably, the study found that our nation's tort system is relatively inefficient, with only 53 percent of total tort costs going towards compensation for claimants. The rest is used to pay for litigation costs and other expenses.
"This report is just further proof that the only individuals who are really benefiting from Pennsylvania's unbalanced system of civil justice are profiteering plaintiffs' attorneys," Schroder added. "As we approach a new legislative session, we implore the General Assembly and Governor-elect Shapiro to prioritize legislation and policies that will bring fairness, predictability, and efficiency back to our Commonwealth's civil justice system." Schroder also implored voters to keep the civil justice burden in mind when evaluating candidates in next year's Supreme Court election.
# # #
The Pennsylvania Coalition for Civil Justice Reform is a 501(c )(6), not-for-profit, nonpartisan advocacy organization comprised of a diverse group of organizations and individuals committed to bringing fairness to Pennsylvania's courts by raising awareness of civil justice issues and advocating for legal reform. Additional information is available at http://www.paforciviljusticereform.org, https://www.facebook.com/paciviljustice/ or  https://twitter.com/paciviljustice.
Curt Schroder
Executive Director
Pennsylvania Coalition for Civil Justice Reform
717-461-3577