PA Economy Stable as 2020 Presidential Election Approaches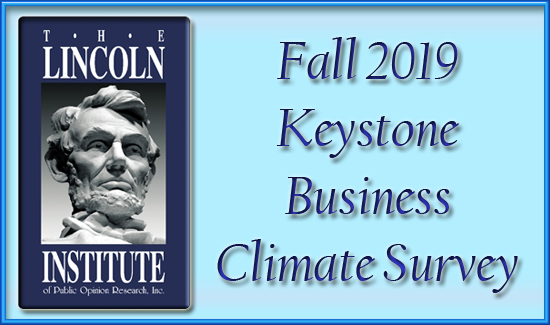 Pennsylvania's economy has cooled somewhat over the past year, but remains strong.  So strong, in fact, the biggest problem facing employers remains finding qualified employees to fill open jobs.  Those are the key findings of the Fall 2019 Keystone Business Climate Survey of business owners and Chief Executive Officers conducted by the Lincoln Institute of Public Opinion Research, Inc.
The ongoing trade war with China, tariffs, and uncertainty surround the upcoming 2020 Presidential election are weighing on the national economy and Pennsylvania is not immune to those effects.  Despite that, 23% of respondents to the survey say business conditions in the commonwealth have gotten better over the past six months, 23% say they have gotten worse.  Those numbers are almost identical to results of the Spring survey, but down from a year ago when 39% said the state's economy had improved and seven percent said it had gotten worse.
Generally speaking the business leaders who responded to the survey say the Trump Administration has the nation's economy on the right track, with 60% holding that view; while 29% say the economy is on the wrong track.  The Fall 2018 poll found 71% thought the economy was on the right track with 19% having said it is on the wrong track.
Employment
When asked what is the most significant problem facing your business today, 38% of those responding to the Fall 2019 Keystone Business Climate Survey said it is a lack of qualified employees.  Eighteen percent cited excessive regulation as their biggest problem while 13% said high taxes. Eight percent said access to capital is their most significant problem and another eight percent are suffering because of tariffs.
More than half – 58% – have job openings for which they are seeking employees.  Seventy-six percent reported difficulty filling those jobs, with 28% saying they are having significant difficulty.  Fifty-eight percent said the biggest problem in finding employees is that applicants lack essential skills.  Thirty-seven percent cited an overall lack of applicants; 31% said applicants lack even basic skills while 17% said applicants fail to pass required drug tests.
In line with those responses, 40% said entry level workers are the most challenging positions to fill, followed by 26% having difficulty filling professional (non-management) staff.  Twenty-four percent are having challenges filling skilled production workers jobs; 13% can't find enough skilled building trades workers; and 13% find it difficult to find experienced workers meaning those with ten or more years of experience.
Tariffs are a negative factor for 37% of the owners/CEOs responding to the Lincoln Institute survey with only 9% benefitting from tariffs.  Tariffs are having no impact on 44% of the businesses.
 Statewide Appellate Courts
Currently Pennsylvania appellate courts (Commonwealth, Superior, Supreme) judges/justices are elected in statewide elections. Those participating in the Fall 2019 Keystone Business Climate Survey were asked if we should continue to elect judges/justices statewide, should we instead elect them by district (as we do with congressmen and state legislators), or should we eliminate appellate judicial elections and implement a merit selection (appointment) process? Forty-seven percent said judges/justices should be elected by region; 28% support the current statewide election process; 15% favor merit selection.
Pennsylvania's appellate court judges/justices currently serve for ten year terms.  Twenty-nine percent think ten year terms are appropriate.  However, 39% think those terms should be shortened to six years while 26% favor four year terms.
At the end of their ten year terms, judges/justices on Pennsylvania's statewide appellate courts stand for a yes/no retention election rather for re-election where they compete with other candidates to remain in office.  Seventy-one percent of respondents to the survey said the judges/justices should stand for re-election; 23% support continuing the current retention election process.
Business Climate
While the business owners/CEOs participating in the Fall 2019 Keystone Business Climate Survey generally believe the national economy is on the right track, the verdict is mixed when it comes to Penn's Woods.  Equal numbers: 23% say business conditions in the state are better than they were six months ago, 23% say business conditions are worse than they were six months ago.  Sentiment was evenly split in the Spring survey, but a year ago 39% saw improving conditions with only 7% saying they had gotten worse. Looking ahead six months, 19% forecast the state's business climate will improve, but 26% think it will get worse.
Employment continued to move upward over the past six months: 19% report higher employment levels at their business, 15% say employment levels were lower; 64% said employment levels remained about the same.  The outlook for the next six months is optimistic: 25% expect to add employees, while six percent expect to have fewer employees.
Sales were a bright spot over the past six months with 38% reporting an increase in sales, 15% said sales decreased and 41% said sales remained about the same. Looking ahead six months, 34% project their sales will increase and 14% anticipate decreasing sales.
Job Approval Ratings
While President Donald Trump's job approval rating remains positive – 59%/37% – his job approval is down from 73% positive/ 25% negative in the Spring survey.  Both of Pennsylvania's U.S. Senators saw improvement in their job performance number with U.S. Senator Robert P. Casey, Jr. seeing his number rise from 18% positive/ 61% negative last Spring to 28% positive/ 50% negative in the current survey.  Likewise, U.S. Senator Pat Toomey saw his numbers improve from 31% positive/ 45% negative in the Spring survey to 37% positive/ 43% negative in the current poll.  Governor Tom Wolf also posted improved numbers with a 32% positive/ 55% negative job approval rating.
Despite criticism from President Donald Trump, the business leaders in the poll gave Federal Reserve Board Chairman Jerome Powell a 34% positive/ 24% negative job approval rating.  U.S. Treasury Secretary Steven Mnuchin fared worse with a 32% positive/ 34% negative rating.
Among the Pennsylvania statewide constitutional or "row" offices, Attorney General Josh Shapiro holds a 30% positive/28% negative job approval rating; Auditor General Eugene Depasquale's job approval rating stands at 30% positive/ 13% negative; while State Treasurer Joe Torsella is upside down with a 17% positive/ 18% negative rating.
Business leaders continue to hold a strong negative view of state and national legislative bodies.  The U.S. Senate received a 26% positive/ 68% negative rating while the U.S. House of Representatives turned in a 26% positive/ 65% negative rating.  The Pennsylvania Senate's job approval stands at 27% positive/42% negative; with the Pennsylvania House of Representatives holding a 21% positive/ 49% negative rating.
Methodology
The Fall 2019 Keystone Business Climate Survey was conducted electronically through the month of October with 160 business leaders participating.  Of those 63% were the owner of the business, 17% serve as the CEO/COO/CFO; seven percent were a local manager and one percent a state manager.
Geographically, 28% of the responses came from businesses located in southeastern Pennsylvania, 20% from southwestern Pennsylvania, 18% from northeastern Pennsylvania; 16% south/central Pennsylvania; 5% each from northwestern Pennsylvania, northcentral Pennsylvania, and the Lehigh Valley; 3% came from the Altoona/Johnstown region.
Complete numeric results of the Fall 2019 Keystone Business Climate Survey are available by clicking https://www.lincolninstitute.org/49722-2/
Permission to reprint is granted provided author and affiliation are cited.