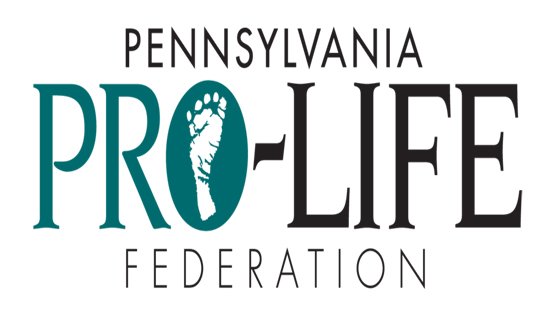 ONLINE NEWS
April 16, 2018
Save the Date for
2018 Celebrate Life Banquet
Mark your calendar now to join fellow pro-life advocates from across the Commonwealth for the 2018 Celebrate Life Banquet to be held Thursday, October 18, 2018 at 6:00 PM at the Hotel Radisson Harrisburg, 1150 Camp Hill Bypass, Camp Hill, PA. Our keynote speaker this year will be Ann McElhinney, coauthor of Gosnell: The Untold Story of America's Most Prolific Serial Killer, and co-producer of the film The Gosnell Movie, due out this fall. Registration details will be available soon. Make sure you reserve your seat early, as seats will go fast!!!
The Glaring Omission in
Cecile Richards' New Book
By Maria Gallagher, Legislative Director

Perhaps the most troubling aspect of Planned Parenthood chief Cecile Richards's book, Make Trouble, is a glaring omission: the stories of women who have had abortions and who regret them.

These are the dissatisfied customers of the abortion industry. Richards mentions this regret only in order to make a disparaging comment about pro-life activists.

Otherwise, these wounded souls are invisible in the book's pages.

Richards also fails to mention the many, many young people who demonstrate their commitment to the cause of life—not only at the annual March for Life in Washington, D.C., but also in their hometowns and their high schools, their communities and their colleges.

Again, these vibrant young people appear to be invisible to her.

Also invisible is the little girl or boy in a mother's womb. The author closes her eyes to their humanity, even as science has proven, again and again, that they are living beings.

She blithely dismisses advocates for life as the "crazy opposition." She claims that women would have nowhere to go for health care if it weren't for Planned Parenthood, while, in truth, the federal tax dollars could be redirected to health centers which could provide the comprehensive care that Planned Parenthood lacks.

Richards demonstrates the organization's militancy and extremism on the issue of abortion with this telling statement: "Planned Parenthood would not support legislation that banned abortion coverage"—even if it meant defeat for a bill for which it had been lobbying.

It is unfortunate that, as Richards writes, her own abortion "wasn't an agonizing decision" for her. She denies that the abortion was a tragedy.

But the taking of an innocent human life is always a tragedy—whether Richards acknowledges it or not. A preborn child is human—whether the abortion advocate accepts it or not.

Women who regret their abortions deserve a hearing—whether Planned Parenthood officials are listening or not.

And today's pro-life teenagers can make Roe v. Wade disappear into the ashbin of history—whether or not Richards recognizes the tremendous harm that 1973 U.S. Supreme Court decision has had on women and their children.
Mother's Day is Less Than a Month Away
Mother's Day is May 13, 2018 and is a great time to celebrate mothers everywhere. As part of the celebration, the Pennsylvania Pro-Life Federation has designed a pro-life bulletin insert for area churches. If you are interested in having your church include a pro-life insert, please email Education Director Matthew Wagner at [email protected] or call 717-541-0034 and let us know if you need the full page or half-page version.
Are You Registered to Vote?
Today is the last day to register to vote in the May 15th primary election in Pennsylvania. Are you registered? If not, please visit www.votespa.com for information on how to register. Remember, brave men and women have fought and died for the right to vote in the U.S. Please don't miss the opportunity!
Reading/Berks March for Life: Sunday, April 29, 2018 at 12:00 PM at the Berks Catholic High School, 955 E. Wyomissing Boulevard, Reading PA, 19611. The Pennsylvania Pro-Life Federation and other local, state, and national pro-life organizations will participate in an expo from 12:00 PM to 2:00 PM followed by speakers to include Father Steve Isaac of St. Ignatius Loyola Parish, Maggie Sweet from Silent No More, and David Bereit, the founder of 40 Days for Life. Participants will then march into the city of Reading, past Planned Parenthood. For more information, email [email protected], or visit https://www.facebook.com/events/168305717125322/.
For more pro-life events in your area, click here. For a complete list of chapters, click here.

Live in Southeast PA? Contact SE Regional Coordinator Carla Ezell to find out more about joining a chapter in Bucks, Montgomery, Chester, Delaware, or Philadelphia County. You can reach Carla by e-mail at [email protected].

If you live in another part of the state and you'd like to get involved in a local chapter, contact Executive Director Michael Ciccocioppo at [email protected] or by phone at 717-541-0034.
Pennsylvania Pro-Life Federation

If you have trouble accessing any of these stories, you can find them here.
–Pregnant? Need help? Click here
–Had an abortion? Need to talk to
someone? Click here
–Interested in volunteering? Click here
–Visit our blog for the latest pro-life updates!
–For our 60 second Pro-Life Notes segments,
–For our LifeLines Radio program, Click here