Paul Kengor Named Editor-in-Chief of the American Spectator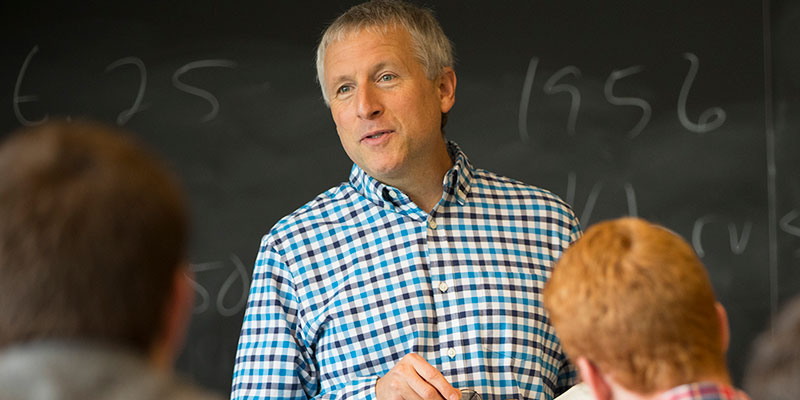 Grove City College Professor of Political Science Dr. Paul Kengor is the new editor of The American Spectator, one of America's oldest and most influential conservative publications.
Kengor, who was already serving as a senior editor and regular contributor to The American Spectator, was tapped for the post by the magazine and online outlet's longtime editor-in-chief R. Emmett Tyrrell Jr., who founded the magazine in Bloomington, Indiana in 1967.
Tyrrell said Kengor was part of a search team that Tyrrell had put together to find a successor. "Paul and I conferred regularly, and then, last spring, while we were going over our list of candidates for the job at my favorite restaurant, a lightbulb went off in my cerebrum. 'Paul,' said I, 'why don't you take the job?' Paul took a sip of his wine and looked at me as if to declare, 'I thought you'd never ask.' After a three-year search, we had our editor. He was at my elbow all along," Tyrrell recalled.
Tyrrell said Kengor knows the magazine well, both as a contributor and as a scholar working on an official history of The American Spectator, and has been a key developer of new and successful contributors though the magazine's Young Writers Program. Under Kengor's tutelage, over a dozen Grove City College students have become interns, writers, and even full-time staff members of the magazine in recent years, and some have gone on to prominent positions with other publications and organizations.
"Tyrrell and others at the magazine have been enormously impressed with the Grove City College students sent their way," Kengor noted. "They've ranged from interns to Tyrrell's personal assistant on his memoirs to the person who ran the entire office a few years back. Our students rarely disappoint."
Kengor said his only condition in accepting Tyrrell's offer was that "nothing changes for me at Grove City College and the Institute for Faith & Freedom," where he serves as the conservative think tank's senior director and chief academic fellow in addition to his teaching duties. To the contrary, Tyrrell, who spoke at Grove City College in the 1970s and 1980s in Dr. John Sparks' summer seminars, is an admirer of Grove City College and wants to keep the relationship between the college and the magazine a strong one that benefits both sides.
Grove City College President Paul J. McNulty '80 said Kengor's appointment solidifies the College's longstanding relationship with one of America's leading conservative outlets and provides an opportunity to expand the institution's influence in an important space.
"Paul Kengor is a nationally recognized thought leader and advocate for the ideas and values that define conservatism, and which are foundational to Grove City College. The American Spectator has provided an important forum for those ideas for more than a half a century. The College will now benefit from a closer relationship between one of our leading scholars and one of the country's most influential outlets for robust and fulsome discussion of politics, culture, and society," McNulty said.
Tyrrell introduced Kengor as The American Spectator's new editor at the magazine's 54th Annual Robert L. Bartley Gala last month. In his remarks, Kengor said it was "an incredible honor and joy" to become the editor of a publication that he began following as a college student. He read a list of notable contributors to the magazine since its inception, from Malcolm Muggeridge and Tom Wolfe to Russell Kirk and William F. Buckley, Jr. Kengor noted that leading writers such as George Will, Bill Kristol, Bill McGurn, and Malcolm Gladwell started their writing careers at The American Spectator.
"What really stand out in the life of The American Spectator are the printed words. That is what I initially saw when I first opened the pages in the late 1980s … I laughed and laughed and could not stop laughing. And as I laughed, I learned. I learned ideas and learned great writing," Kengor said. "It was therapeutic. It helped me keep my sanity in the academic asylum … By the end of it, I too was a conservative. Like The American Spectator, I learned to have fun boldly being a conservative."
"Few citadels of conservatism waged the battle of ideas quite like The American Spectator. And none with the wit and panache, the outright hilarity, the fearlessness, and the delightful political incorrectness," Kengor said. "And few publications made the waves, controversy, and history that The American Spectator did in the process — particularly the magazine's riotous exposés on Bill and Hillary Clinton in the 1990s. The American Spectator versus the Clintons was an epic showdown."
Kengor said he aims to keep the magazine "funny, hilarious, and politically incorrect. With fearless wit, great writers, and great writing."
In addition to his work in the classroom and with the Institute for Faith & Freedom, Kengor is a New York Times bestselling author, prolific contributor to a host of media outlets that have ranged from USA Today and the New York Times to the Wall Street Journal and Washington Post, and a regular presence as a guest on conservative talk radio and television.
Kengor has written nearly 20 books, including "The Crusader: Ronald Reagan and the Fall of Communism," "Dupes: How America's Adversaries Have Manipulated Progressives for a Century," "A Pope and A President: John Paul II, Ronald Reagan, and the Extraordinary Untold Story of the 20th Century," and "The Devil and Karl Marx: Communism's Long March of Death, Deception, and Infiltration." His Reagan scholarship provides the inspiration for the upcoming film "Reagan," starring Dennis Quaid and Jon Voight.