PCCJR Applauds Effort to Prevent Venue Shopping in Medical Liability Cases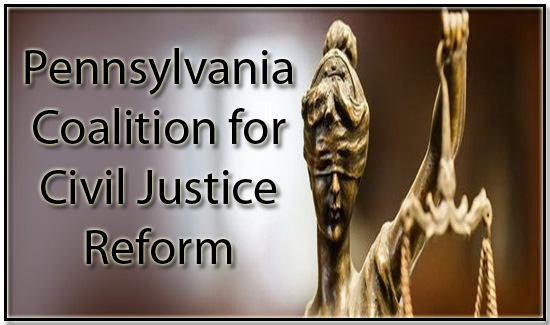 Rep. Rob Kauffman introduces language to amend Pennsylvania's Constitution
HARRISBURG – The Pennsylvania Coalition for Civil Justice Reform today applauded state Rep. Rob Kauffman, R-Franklin, for introducing House Bill 2660 and for spearheading an effort to amend Pennsylvania's constitution to prohibit venue shopping in medical liability cases.
"Pennsylvania has seen firsthand the negative impacts venue shopping can have on access to health care and jobs," Pennsylvania Coalition for Civil Justice Reform Executive Director Curt Schroder said.  "We can't afford to go back to the days when rampant venue shopping led to skyrocketing liability premiums – driving many physicians and specialists out of the state.  Rep. Kauffman's proposed constitutional amendment addresses this issue by bringing much needed checks and balances to the venue rule.  I encourage members of the General Assembly to support this critical effort and vote for HB 2660."
In the early 2000's, Pennsylvania was in the grip of a medical liability crisis.   Attorneys funneled as many cases as possible through Philadelphia's notoriously high-verdict court system in search of a large payday. As a result, liability premiums for healthcare professionals skyrocketed – causing hospitals and medical professionals to curtail services and close maternity wards.  With access to health care under attack, the Governor, Legislature and Courts worked together to stop venue shopping.  A rule was enacted in 2003 requiring cases to be filed only where the alleged injury occurred. Since the rule was adopted nearly 20 years ago, the number of medical liability cases filed in Philadelphia and other high verdict court systems has plummeted.  However, there is an ongoing push by plaintiffs' attorneys to return to the pre-2003 venue rules and the days of profitable, jackpot awards.  The Supreme Court could act any day now to enact a rule that would take away protections preventing venue shopping.
Kauffman, who chairs the House Judiciary Committee, has introduced HB 2660 to amend the state constitution, clarifying that the General Assembly may establish the venue of a civil lawsuit by statute.  Absent this amendment, the Supreme Court will continue to determine the venue issue itself without any check on its powers by the General Assembly.
Per Pennsylvania's constitution, language for a proposed amendment must past the state General Assembly in two consecutive sessions prior to going before the voters in a ballot referendum.
# # #
The Pennsylvania Coalition for Civil Justice Reform is a 501(c )(6), not-for-profit, nonpartisan advocacy organization comprised of a diverse group of organizations and individuals committed to bringing fairness to Pennsylvania's courts by raising awareness of civil justice issues and advocating for legal reform. Additional information is available at http://www.paforciviljusticereform.org, https://www.facebook.com/paciviljustice/ or  https://twitter.com/paciviljustice.