PCCJR Releases Voter Education Guide Ahead of 2023 Judicial Primary Election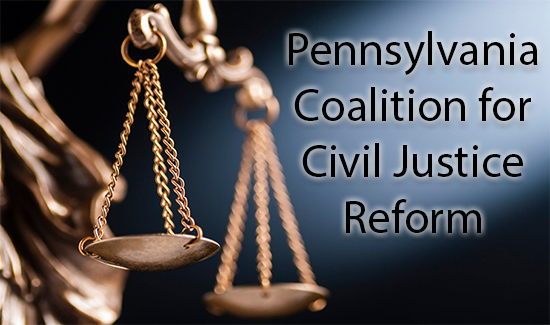 Harrisburg, PA – The Pennsylvania Coalition for Civil Justice Reform (PCCJR) today released its judicial voter education guide.  Our guide features information on how decisions by Pennsylvania's highest court have damaged job creating businesses and health care in the Commonwealth, as well as questionnaire responses from candidates for Supreme, Superior, and Commonwealth Courts. The guide is available to voters at https://paforciviljusticereform.org/2023-pa-judicial-voter-guide/.
"The Pennsylvania Supreme Court has charted a course that is harmful to our economy.  The court's liability expanding decisions over the past several years pose a grave threat to job creators, medical providers, and all those who live and work in Pennsylvania. The guide explains the impact of these decisions and the ramifications to residents of the Commonwealth," said PCCJR Executive Director Curt Schroder.
This year, Pennsylvanians will be electing one justice to the Supreme Court. The Pennsylvania Supreme Court is the highest court in the Commonwealth and the oldest appellate court in the nation.  In addition to the Supreme Court race, there are two open seats on the Superior Court and one open seat on the Commonwealth Court. "By electing the right candidates, we can begin the process to restore order and balance to the Supreme Court," according to Schroder.
PCCJR recognizes and thanks Supreme Court candidate, Judge Carolyn Carluccio, for responding to our questionnaire.  We also thank Superior Court candidates Judge Harry Smail and Maria Battista for their responses.  Candidates who respond demonstrate an understanding and appreciation of the issues of concern to our members.  We are left to only speculate on the positions and leanings of candidates who did not take the time to respond.
"PCCJR developed this election guide to help voters zero in on issues and judicial philosophies that will undoubtedly help shape the courts and future court decisions for a generation. Voters will find this guide both informative and useful in formulating their decisions in the May primary," concluded Schroder.
###
The Pennsylvania Coalition for Civil Justice Reform is a 501(c )(6), not-for-profit, nonpartisan advocacy organization comprised of a diverse group of organizations and individuals committed to bringing fairness to Pennsylvania's courts by raising awareness of civil justice issues and advocating for legal reform. Additional information is available at http://www.paforciviljusticereform.org.