Pennsylvania Ranks as a Top State for 'Nuclear Judicial Verdicts'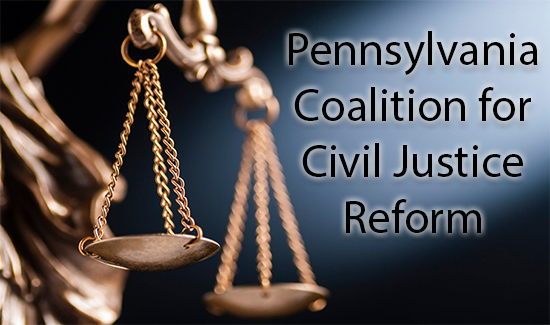 HARRISBURG – Pennsylvania's legal climate has received another notorious distinction – this time as one of the country's worst environments for nuclear verdicts. The negative designation comes from the U.S. Chamber's Institute of Legal Reform's recently published Nuclear Verdicts report.
"This report is just further proof that the scales of justice in Pennsylvania are unfairly tilted to the benefit of plaintiffs' attorneys," Pennsylvania Coalition for Civil Justice Reform Executive Director Curt Schroder said. "Unfortunately, we can only expect nuclear judicial verdicts to increase now that the state Supreme Court has reversed the venue rule for medical liability cases.  With forum shopping once again allowed in the state, trial lawyers will be flocking to Philadelphia and other high-verdict jurisdictions in an attempt to score jackpot paydays."
The report defines a nuclear verdict as a jury verdict of $10 million or more in personal injury and medical malpractice lawsuits and covers the time period between 2010 and 2019. The data compiled shows that during that time period, there were 78 reported nuclear verdicts in Pennsylvania, totaling $11 billion awarded.  The median verdict was $20 million.
According to the report, more than half of the Commonwealth's nuclear verdicts took place in the Philadelphia Court of Common Pleas. The Philadelphia Court of Common Pleas has long been viewed as a judicial hotbed. It has routinely been ranked as a top "Judicial Hellhole" by the American Tort Reform Foundation's annual report of the country's most unjust courts and state civil justice systems that are ripe for lawsuit abuse.
"Clearly, Pennsylvania's civil justice system needs rightsizing," Schroder added. "We encourage lawmakers to address the venue issue once and for all to bring fairness and balance back to the state's legal environment."
The Pennsylvania Coalition for Civil Justice Reform is a 501(c )(6), not-for-profit, nonpartisan advocacy organization comprised of a diverse group of organizations and individuals committed to bringing fairness to Pennsylvania's courts by raising awareness of civil justice issues and advocating for legal reform. Additional information is available at http://www.paforciviljusticereform.org, https://www.facebook.com/paciviljustice/ or  https://twitter.com/paciviljustice.
Curt Schroder
Executive Director
Pennsylvania Coalition for Civil Justice Reform
717-461-3577