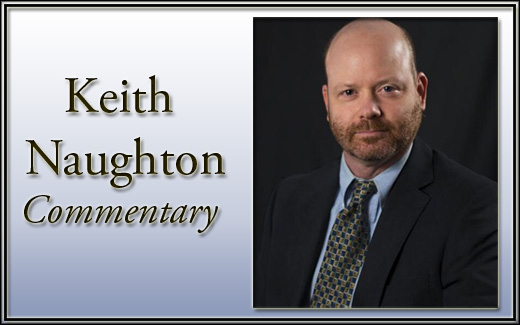 The close shave Republicans experienced in Ohio this past week revived Democratic hopes of a landslide this November.  Losing by less than 1% in a solidly GOP district is certainly a moral victory.  Of course, 218 moral victories in November would keep them in the minority.
In the Senate, just two seats stand between the Democrats and a majority.  That slim margin would seem to be an easier path than picking up the 25 seats they need for a House majority (current lineup:  236 GOP, 193 Democrat and 6 vacant), but it isn't.  The bottom line is that even a strong Election Day for the Democrats could result in a bigger Republican majority in the Senate.
How can a Democratic wave give the Republicans more Senate seats?  For one thing, the Democrats are defending 24 seats and ten in states won by President Trump.  The GOP is only defending nine seats and just one in a state won by Hillary Clinton.
On average, the President's party loses just one seat in the first mid-term, ranging from a 9-seat loss in 1994 to a 4-seat gain in 1962.  Why so few?  The 6-year term means that the political landscape six years previous has a significant effect.  In 1970 (Nixon's first mid-term) Republicans gained two seats.  That gain was hardly due to Nixon's popularity.  Democrats were defending 25 seats – an historic high – from the 1964 landslide election.
Big moves in the Senate happen when a particular set of factors come together:  an unpopular President whose party holds a majority and is defending a high number of seats.  The last major mid-term seat gain by the Democrats was in 1986 where sagging approval numbers for President Reagan combined with the GOP defending 22 seats – many of whom were first-termers from the 1980 GOP landslide – resulted in an 8-seat Democratic gain.
All that said, a Republican majority is hardly assured.  At 51-49 with several tight races a wobble in turnout could easily shift control.  Essentially, the Democrats have three seats in their crosshairs (Arizona, Nevada and Tennessee) while the Republicans have four main targets of their own (Florida, Indiana, Missouri and North Dakota).  Four seats lurk on the periphery, three Democratic seats (Montana, New Jersey and West Virginia) and one Republican (Texas).
Democrats' Best Chances:  1) Arizona, 2) Nevada, 3) Tennessee:  Democrats look strongest in open-seat Arizona and Republicans have yet to nominate their candidate.  GOP Rep. McSally is the strongest candidate, but she trails Democrat Sinema by 4-7 points.  State Senator Kelli Ward runs about 4-points worse than McSally while Joe Arpaio is so far back his nomination would be tantamount to surrendering the seat.  Nevada and Tennessee have been surprises of late.  Dean Heller is the only GOP incumbent defending in a state won by Clinton, but the most recent poll has him up 1-point.  Tennessee should be a slam-dunk for the GOP, but former governor Democrat Phil Bredesen is polling ahead of Rep. Marsha Blackburn.  Even so, a Democratic victory in Tennessee would be an uphill climb.
Republicans' Best Chances:  1) Florida, 2) North Dakota, 3) Missouri, 4) Indiana:  The GOP may have a target-rich environment, but the party is challenged not just because the President's party always faces mid-term headwinds, but every Democratic target is an incumbent – and incumbents are tough to beat.  Not every state has strong polling, but Republican candidates are running ahead in Florida, North Dakota and Indiana.  The big shock is that multi-term incumbent Democrats Bill Nelson (Florida) is consistently trailing Governor Rick Scott and Nelson hasn't topped 50% since April of last year.
GOP Congressman Kevin Cramer is consistently outpolling incumbent Heidi Heitkamp, but by a slim 1-point.  In Missouri, Democratic incumbent Claire McCaskill has benefited from low-quality GOP opponents, but Attorney General Josh Hawley is a top-tier challenger.  Polling has see-sawed, but McCaskill has yet to break 50% in any poll.  The Indiana race has only one public poll to date with Republican Congressman Mike Braun leading incumbent Joe Donnelly by just one-point.  Not much to go on – except that the race is close and a solid opportunity for Republicans.
Outside Shots:  Montana, West Virginia, New Jersey, Texas:  These four states present three opportunities for the Republicans and one for the Democrats, but not particularly good ones.  Montana and West Virginia feature popular incumbent Democrats who were former governors.  Senators Tester and Manchin hold solid leads, but Montana Auditor Matt Rosendale has closed his gap a bit.  These Trump-voting states are competitive, but the Democrats have the advantage.
New Jersey and Texas are two sides of the same unexpected coin.  Both races feature incumbents who should be safe given the partisanship in their respective states.  But scandal-plagued New Jersey Democrat Bob Menendez is clinging to a small lead over newcomer executive Bob Hugin.  GOP Senator Ted Cruz has a stronger lead over Beto O'Rourke.  Cruz has half the lead of Governor Abbott and O'Rourke has benefited from strong fundraising and fawning coverage from the national press.  Neither Cruz nor Menendez is likely to lose, but the fact is the numbers say that Menendez is in more trouble.
Election night could result in anything from a 54-46 GOP majority to a 52-48 Democratic advantage.  The races are far too close, and the political environment is too volatile to know with any certainty.  The best guess is a slight 1-seat gain by Republicans – which the party will need as it will be defending at least 20 seats in 2020.