State Rep. Mike Reese Dies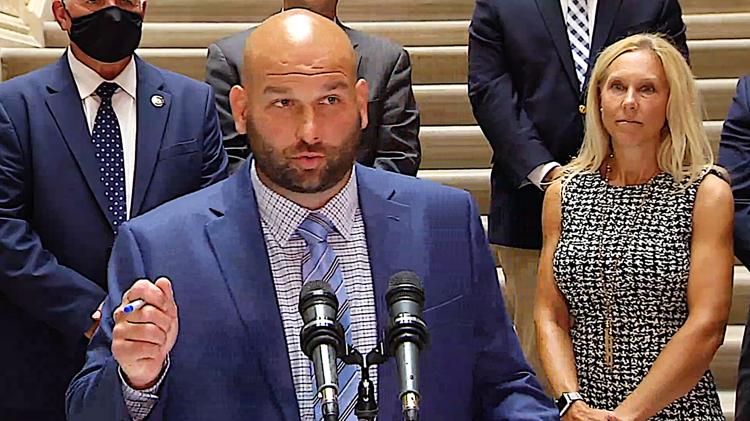 (The Center Square) – Pennsylvania state Rep. Mike Reese, R-Mount Pleasant, died Saturday at a hospital in western Pennsylvania after suffering an apparent brain aneurysm.
House Majority Leader Kerry Benninghoff said in a news release that Reese died at Excela Health Westmoreland Hospital in Greensburg surrounded by family. The 42-year-old representative served more than a decade in the lower chamber and had been selected to serve as the Republican caucus chairman in the 2021-22 legislative session.
Benninghoff extended his condolences to Reese's wife, Angela, their three children – Addison, Claire and Michael Eric – and called the lawmaker "a devoted husband and father and more than a friend to all of us."
"I have known Mike since he took office in 2009 and have been proud to witness his many legislative accomplishments, especially his tireless work on behalf of Pennsylvania's students and families," he said. "Mike was a model legislator who thoughtfully put his constituents first. His spirit, presence and counsel will be sorely missed."
Senate Republican leadership likewise described Reese, who represented the 59th district in parts of Westmoreland and Somerset counties, as a family man dedicated to empowering local governments and improving public education.
"Mike came to Harrisburg determined to be a strong voice for his community in the state's capital as he fought to empower local governments and schools to make decisions about what is best for them," said Senate President Pro Tempore Jake Corman, R-Centre. "It was obvious the decisions he made as part of government were guided by his desire to make the Commonwealth a better place for his family and others."
Majority Leader Kim Ward, R-Greensburg, described Reese "as one of the most respected voices in Harrisburg on education issues" and "a rising star in the House Republican leadership ranks."
"Mike was a part of the fabric of Westmoreland County politics over the last two decades," she said. "Since 2008 when he and I joined the state legislature, he has been a terrific partner in advocating for Westmoreland County and a staunch proponent of good government."
"Our community was robbed of one of the most honorable men I have ever had the privilege to serve with and our Commonwealth will be worse off because Mike's voice will not be a part of its future," she added.