'Virtual' PLC Speakers, Panel Agenda Announced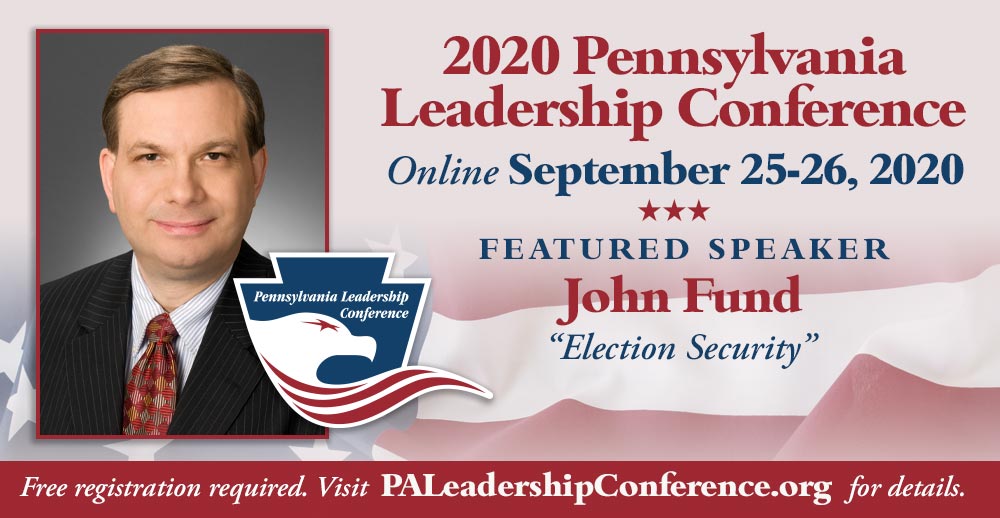 The 2020 Pennsylvania Leadership Conference will originate live from the ballroom at the Radisson Penn Harris Convention Center on Friday, September 25th and Saturday, September 26, 2020.  Due to draconian restrictions placed on indoor gatherings by the Wolf Administration attendees will have to view the conference virtually via our digital platforms including the Pennsylvania Leadership Conference Facebook page, YouTube channel, live streaming at www.paleadershipconference.org, and at this time the Pennsylvania Cable Network (PCN) plans to air the conference live.
So that we might keep you updates on schedule changes and speaker information and to provide you with the conference app we ask that you register as a virtual attendee by going to www.paleadershipconference.org.  There is NO CHARGE to register for the conference and associated workshops.
2020 Pennsylvania Leadership Conference
A G E N D A
Friday, September 25, 2020
9:00 A.M.     Workshop:               Americans for Prosperity
                        Topic:                         Becoming a Watchdog
                        Presenter:                Duane Lester, Americans for Prosperity
10:00 A.M.   Workshop:              PA Family Institute
Topic:                         Pennsylvania's Push for Pot:
                                    Lessons Learned from Marijuana Legalization
Presenters:               Luke Niforatos, Smart Approaches to Marijuana
11:00 A.M.   Workshop:               Freedom Works
Topic:                         Social Media Training
Presenter:                Dercy Teixeira, FreedomWorks
12:00 P.M.   Welcome:                 Lowman Henry, PA Leadership Council
Opening Prayer:     Stephanie Borowicz, State Representative
12:10 P.M.   Speaker:                   Doug Mastriano, State Senator
12:30 P.M.   Panel:                        Reigning in the Big Bad Wolf
                        Moderator:              Frank Ryan, State Representative
Panelists:                  Russ Diamond, State Representative
Daryl Metcalfe, State Representative
Marc Scaringi, Attorney
1:00 P.M.      Speaker:                   Sam Rohrer, Pennsylvania Pastors Network
1:20 P.M.      Panel:                        Shut Up and Dance With Me: How Unions Keep                                                                   Public Employees from Ending Their Membership
Moderator:              Nathan McGrath, Fairness Center
Panelists:                  Greg Hartnett, Public School Teacher
Elisabeth Kines, Americans for Fair Treatment
Greg Rothman, State Representative
1:50 P.M.      Speaker:                   Kelly Ann Pidgeon, Armed and Feminine
2:10 P.M.      Conversation:          Unleashing the Power of Free Enterprise
Panelists:                  Kristin Phillips-Hill, State Senator
Dawn Keefer, State Representative
2:30 P.M.      Speaker:                   Corey DeAngelis, Reason Foundation
2:50 P.M.      Panel:                        Expanding Education Opportunities 
Moderator:              Otto Banks, REACH
Panelists:                  Frank Brogan, Assistant U.S. Sec. of Education                                                                     John DiSanto, State Senator
Colleen Hroncich, Commonwealth Foundation
3:20 P.M.      Panel:                         Combating Environmental Extremism
Moderator:              Rebecca Oyler, NFIB-PA
Panelists:                  Cris Dush, State Representative
Kathy Rapp, State Representative
Gordon Tomb, Commonwealth Foundation
3:50 P.M.      Conversation:          Pro-Life Policy Why Leadership & Elections Matter                                                              Tom Shaheen, PA Family Institute
Victoria Cobb, Virginia Family Foundation
Kate Klunk, State Representative
4:10 P.M.      Video                         Entrepreneur Protection Program
                                                            Joshua Nulph, Citizens Alliance of Pennsylvania
4:30 P.M.      Conversation:          The Conservative Movement in 2020
John Gizzi, Newsmax
                                                            Paul Kengor, Grove City College
5:00 P.M.      HOLD                         Trump Surrogate
Saturday, September 26, 2020
7:00 A.M.     Freedom "Breakfast"
M.C.                           Jeff Coleman, Churchill Strategies
Speaker:                   Rick Santorum, former U.S. Senator
8:00 A.M.     Panel:                        Free Market Approach to Affordable Health Care   
Moderator:              Jezree Friend, MBA
Panelists:                  Valerie Gaydos, State Representative
Robert Graboyes, Mercatus Center
Christopher Wright, Potomac TEA Party
8:30 A.M.     Speaker:                   Rev. C.L. Bryant, Freedom Works
8:50 A.M.     Conversation           Expanding the Base
Panelists                    Lenny McAlister, Commonwealth Foundation
Angela Sailor, Heritage Foundation
9:10 A.M.     Conversation:          A Conversation with Mike Turzai
John Gizzi, Newsmax
                                                            Michael Turzai, Former PA House Speaker
9:40 A.M.     Panel:                        Competitive, Simple & Fair:
The Trifecta for Comprehensive Tax Reform
Moderator:              Ashley Klingensmith, AFP
Panelists                    Seth Grove, State Representative
Douglass Henry, CEO Henry Molded Products
Jonathan Williams, ALEC
10:10 A.M.   Speaker:                   Scott Perry, U.S. Representative
10:30 A.M.   Speaker:                   Ensuring a Fair Election
John Fund, National Review
10:50 A.M.   Speaker:                   Pat Toomey, US Senator
11:10 A.M.   Conversation:          Moving Pennsylvania Forward
Bryan Cutler, PA House Speaker
David Taylor, PA Manufacturers Association
11:30 A.M.   Speakers:                  Heather Heidelbaugh,
GOP Nominee for Attorney General
Tim DeFoor,
GOP Nominee for Auditor General
Stacy Garrity,
GOP Nominee for State Treasurer
12 NOON      Leadership "Luncheon"
Speaker:                   Lawrence Tabas, PAGOP
Panel:                        Keeping Pennsylvania RED
Moderator:              Jeff Lord, American Spectator
Panelists:                  Bernie Comfort, PA Trump Chair
Vernon Robinson,
Black Americans to Re-Elect the President
Rose Tennent, Women for Trump
1:30 P.M.      Workshop:               American Majority
Topic:                         Grassroots Organization to Win 2020
Presenter:                Matt Batzel, American Majority
3:30 P.M.      Conference Concludes